LEAH CAPALDI
NEWS
WORKS
BIOGRAPHY
CONTACT
PRESS
MAILING LIST
RECENT NEWS
July 2021





































NOV 2010
My work has been featured in this years Catlin Guide 2011, Check out a peice in The Independent about it.


JAN 2011
The fantastic Jenni Lomax has given me a mention in an article by Dr Richard Cork in this weeks Shortlist magazine!

Check out the peice, Does the recession inspire avant garde art? You can pick up a copy at your local tube station.
FEB 2011
I've been shortlisted along with four other artists for The Catlin Art Prize 2011. The exhibition will take place at The Tramshed in Hoxton from 18th-22nd of May. Take a look at the press release

Also I have a peice in The King and The Minotaur show opening this Thurs 07/04/2011, check out the website for more deatils.

www.TheKingAndTheMinotaur.com

And finally I have a performance taking place as part of the GlueGun show with Vitrene Gallery at The Hospital Club this Fri 08/04/2011 from 6-9pm. It is a guestlist event so please email me at info@leahcapaldi.com if you would like to come.
New piece with The Guardian

New piece with The Independent

New interview with FAD here

NEXT SHOW

The Catlin Art Prize 2011

PERFORMANCES TIMES:

11AM-2PM THURS/FR/SAT
12PM-6PM SUN

The Tramshead
32 Rivington Street
Shoreditch
London
EC2A

19-22nd MAY 2011

Show opening times:

10AM-6PM

New performance!
MAY 2011

This month.....

I AM TEACHING ON THE PERFORMANCE WEEK AT THE ROYAL COLLEGE OF ART ALONGSIDE NIGEL ROLFE, FRANKO B AND JACK TANSELECTED PEICES BY STUDENTS SHOWN AT PERFORMANCE NIGHT THURS 3RD OF NOVEMBER...come on down!

I have a PERFORMANCE FOR FRIEZE AT DAVID ROBERTS ART FOUNDATION

AND

Bloomberg New Contempoaries 2011

New Contempoaries will begin in Sheffields' Site and S1 Artspace galleries in September before moving to the ICA in November this year. I will be showing a performance which will run each day throughout the whole show.

Site Gallery
1 Brown Street
Sheffield
S1 2BS

S1 Artspace
120 Trafalgar Street
Sheffield
S1 4JT

23rd SEPT - 5th of NOV 2011

ICA
The Mall
London
SW1Y 5AH

23rd NOV 2011 - 15th JAN 2012
OCT 2011

OPENING ON THE 23RD OF NOVEMBER, ICA LONDON.

I will be showing Allure throughout

6-9pm - THURS
2-5pm - FRI/SAT/SUN

ICA
The Mall
London
SW1Y 5AH

23rd NOV 2011 - 15th JAN 2012
NOV 2011

Write up/interview in the London Student Newspaper in print.

Great peice about Allure on Jotta by Elizabeth Homersham

New article in this months Glass magazine in print

and

New article on artinfo.com


DEC 2011
I am very excited to be showing 7 Hours and 7 Days at INCUBATE festival in Tilburg, Holland next week.

Keep checking back for a live broadcast to the peice from Monday 10/09/12 to Friday 17/09/12.
SEPT 2012

I will be exhibiting two new peices of work as part of the INVITES series at Zabludowicz Collection opening next week.

Take a look at an interview I did with Ellen Mara De Wachter for the show.

PV
6.30-9PM, THURS 22/11/12.

EXHIBITION
12-6PM, THURS/FRI/SAT/SUN 22/11/12 - 2/12/12,

I will also be speaking on SAT 24/11/12 at Zabludowicz Collection to the East London Fawcett Group from 1PM...come along!

ZABLUDOWICZ COLLECTION
176 PRINCE OF WALES ROAD
LONODN
NW3 3PT
NOV 2012
I will be taking part in this show at

CAFE GALLERY PROJECTS

Southwalk Park,
London,
SE16 2UA

I've made a new peice for the show including a new performance at the PV on 21/05/13


MAY 2013
I will be giving a lecture at the Kungliga Konsthogskolan in Stockholm on 25/09/13, If you are in Sweeden drop by.

I will be taking part in NO QUESTIONS at AUSSTELLUNGSRAUM, BASEL on 07/09/13.
EARLY SEPT 2013
SEPT LATE 2013

I will be interlocutor at Performing Voice, part of The Onion Discussions - Considering Performance with Roehamption Univeristy at Departure Foundation, 55 Grace Church Street, EC3V 033 on WEDS 11/12/13 6PM. Join us!
EARLY JAN 2014

I have been awarded the Arts Foundation Yoma Sasburg Sculpture fellowship 2014 (!)
JAN 2014

Interviews and reviews up:

Hungertv.com

Wall Street International

Traction Magazine



FEB 2014

I have been invited to respond to Haim Steinbachs show at The Serpentine on 12th of April. I will be showing a new peice, Hung, from 12-5pm. Free entry, come along!


EARLY APRIL 2014
Check out this months Frieze magazine for a review of my last show Witness Matter with Stephanie Saade.

MID APRIL 2014
Check out FADwebsite for a quick review of Hung at The Serpeninte on 12h of April.

Pauls ART STUFF on a train : no.52 'The Quick Fix'


LATE APRIL 2014
I'm very happy to be part of the new ARTLICKS magazine, issue 14. Turn to page 74 for some recommended reading.

You can order it online or pick it up at a local good bookshop.
EARLY JUNE 2014

Check out todays Financial Times for an interview with Ziba Ardalan and a quick mention of the EXPOSURE award I won from Parasol Unit back in 2010.

MID JUNE 2014

LATE JUNE 2014
I have a place on the Gerston/Zevi Land Art Road Trip residency 2014, brilliant news.
I will be showing Allure for Per4m at this years Artissima in Turin on THURS 06/11/2014 from 1-9pm.

I'll be speaking in Collecting the Emerging on SAT 23RD OF MAY at UCL, come on down, Take a look HERE for more info. If you can't make it along you can watch live online on thisistomorrow.com.
I have been invited to take part in the Artist Tour series at the ICA. Join me on THURS 27th of Aug from 6.30pm.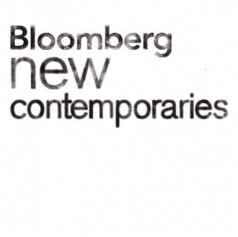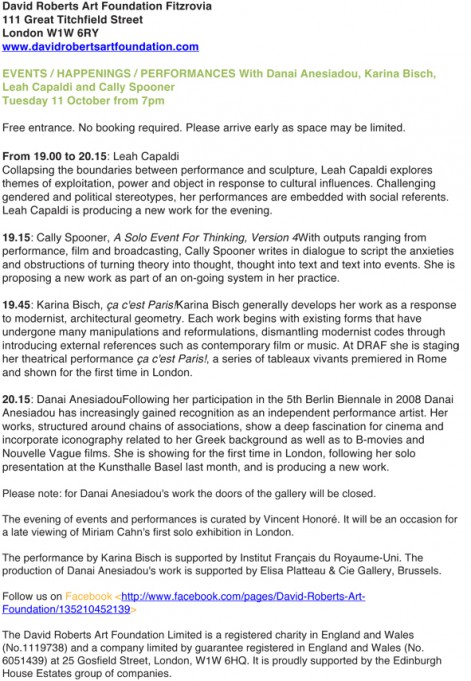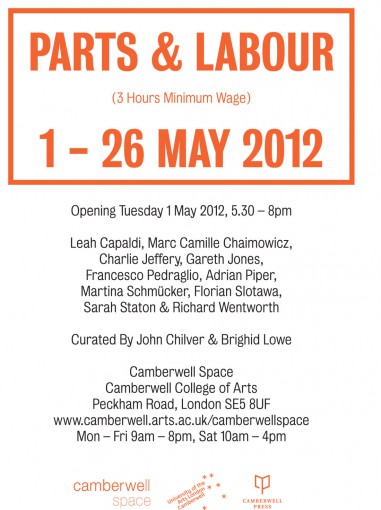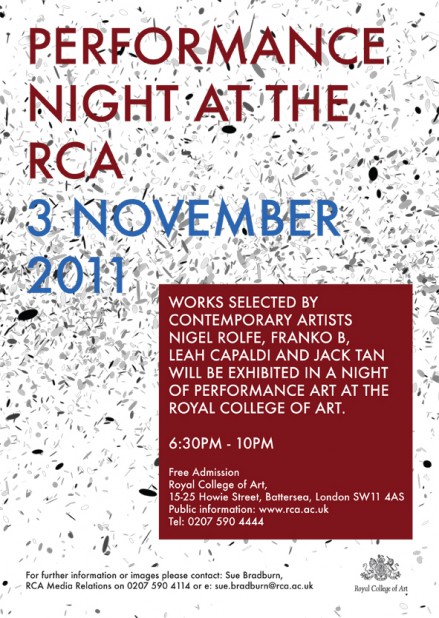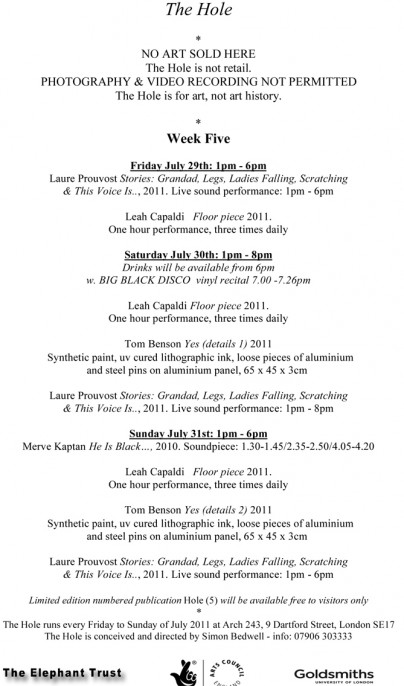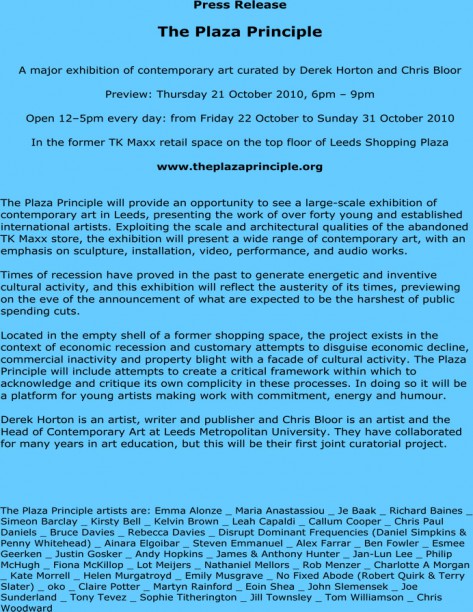 OCT 2010
JULY 2011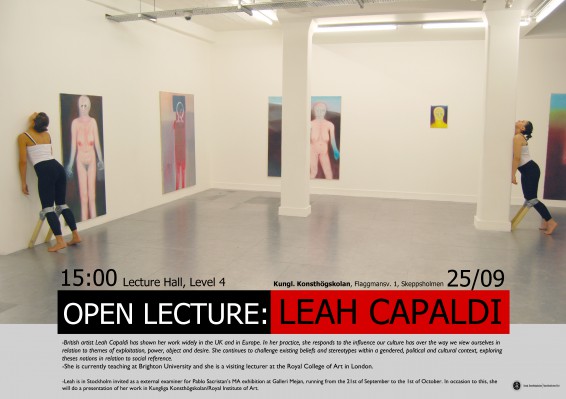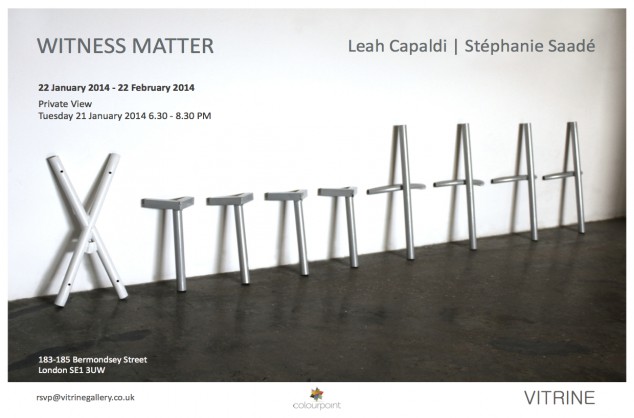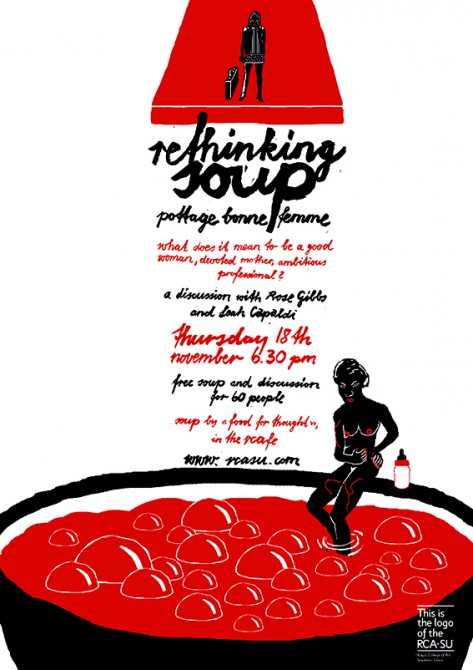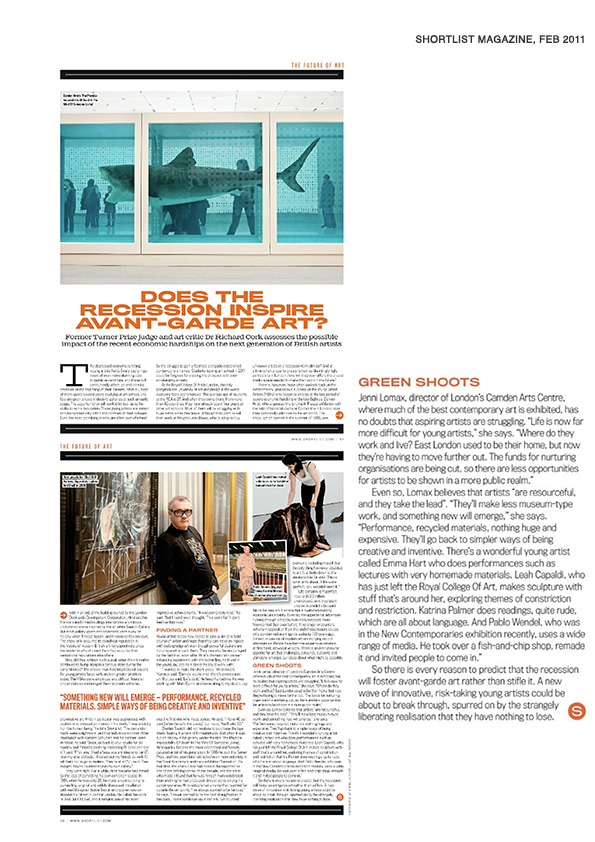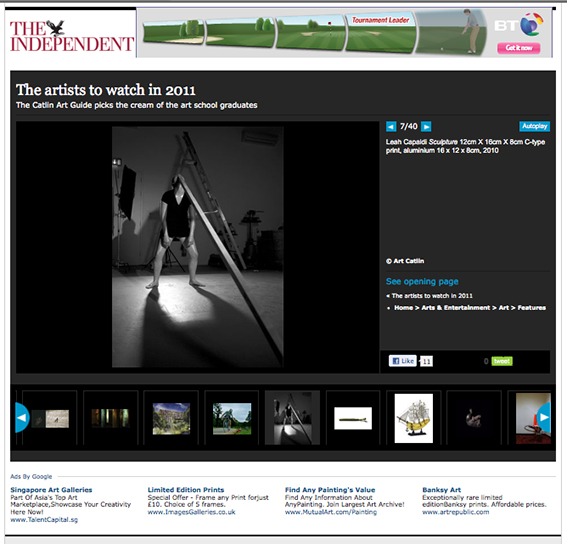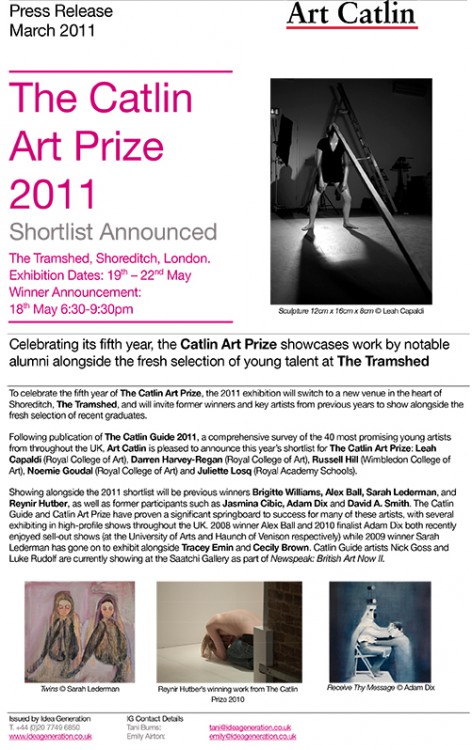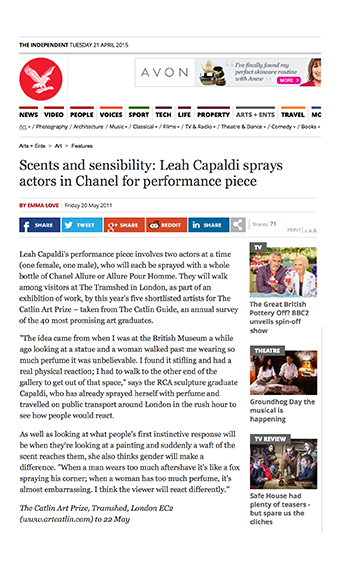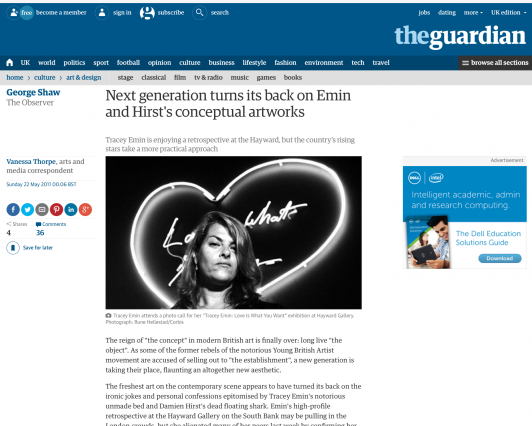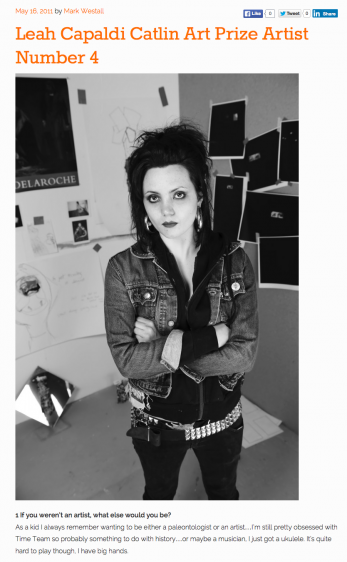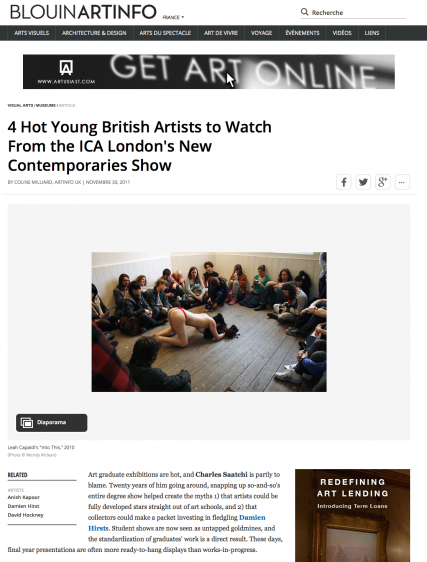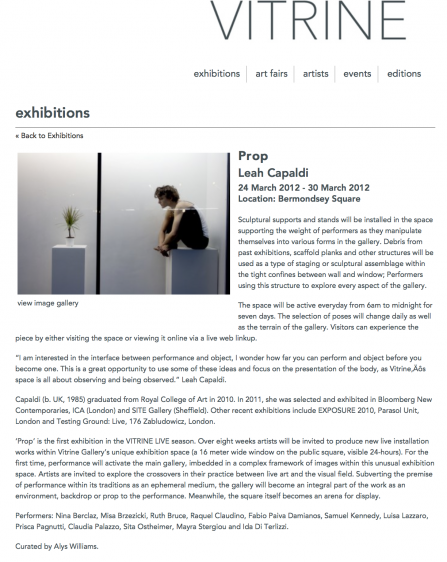 MARCH 2012
JAN 2012
Nice write up for Floor Peice in Artylist from Paul Carey Kent.



MAY 2012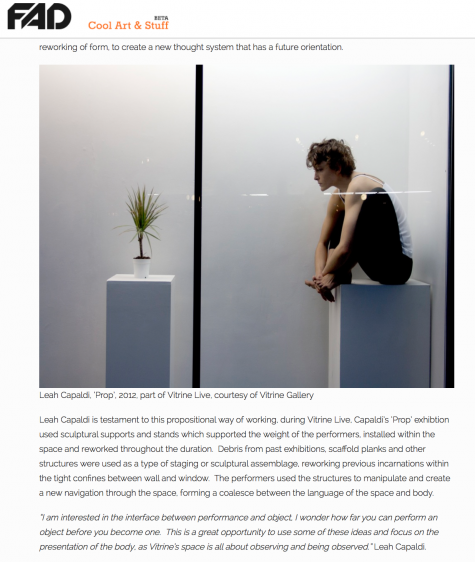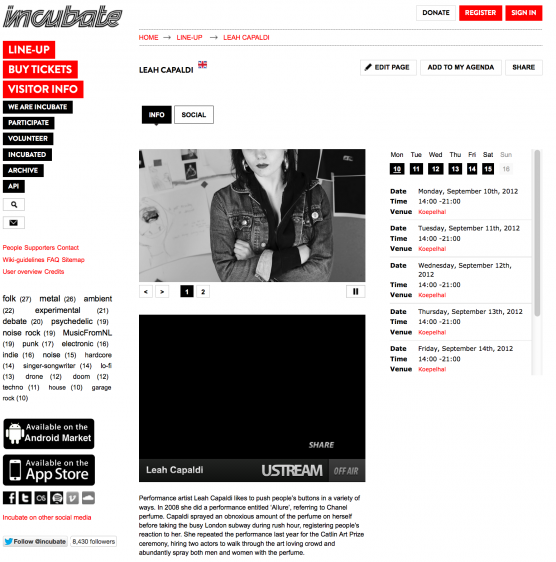 New exhibition, Parts & Labour at Camberwell Space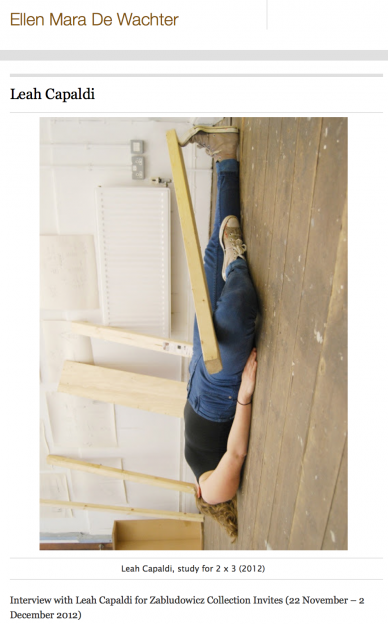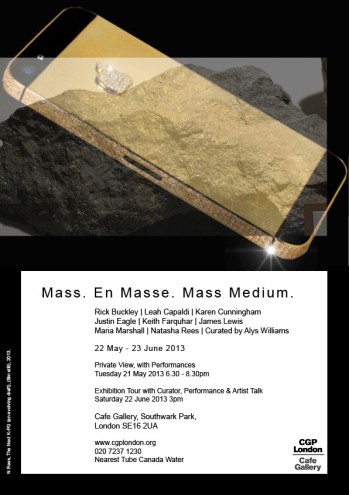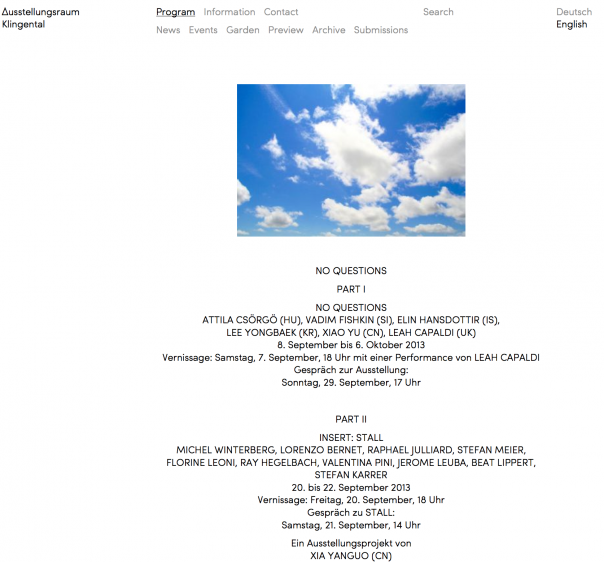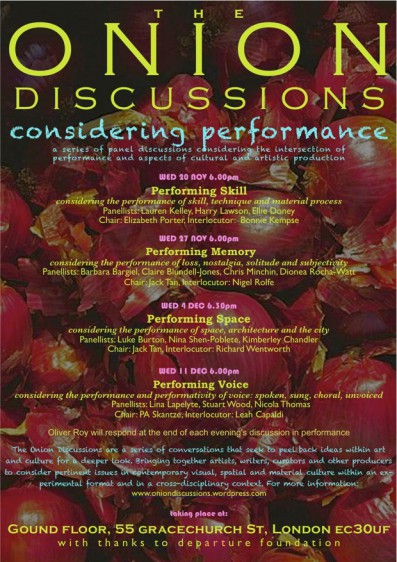 New Exhibition,

WITNESS MATTER

VITRINE
183-185 BERMONDSEY STREET
LONDON
SE1 3UW

22/01/14-22/02/14

Expect fishtanks and CCTV, Come along for the PV on TUES 21/01/2014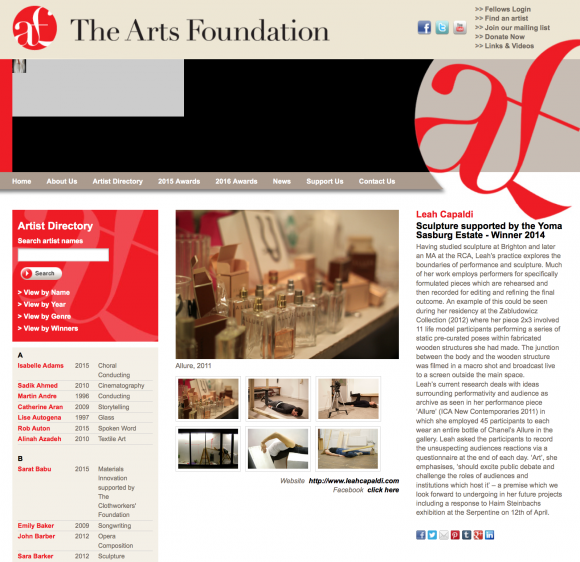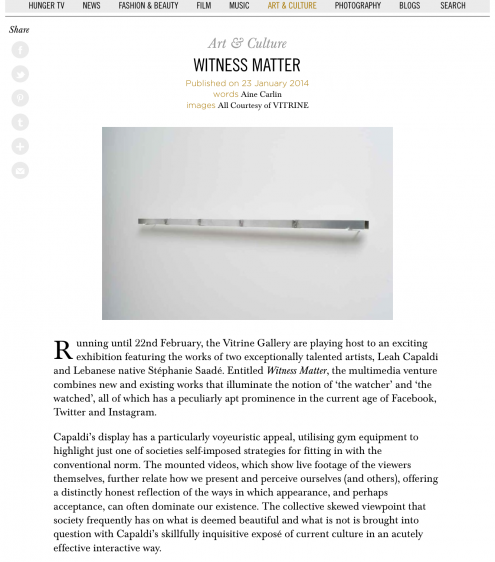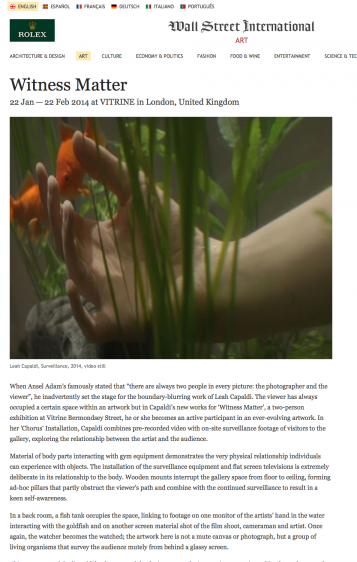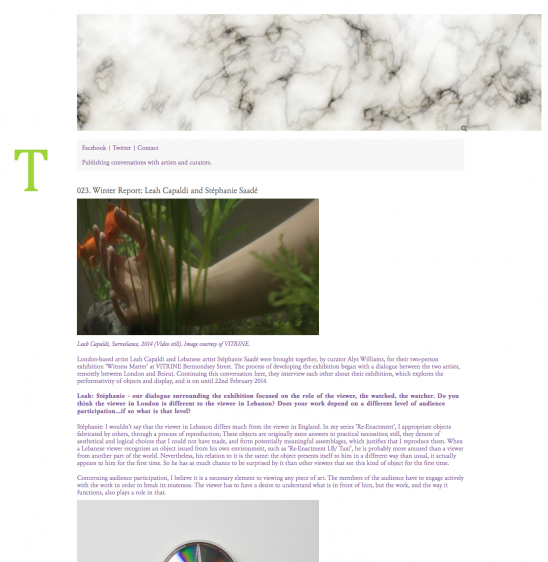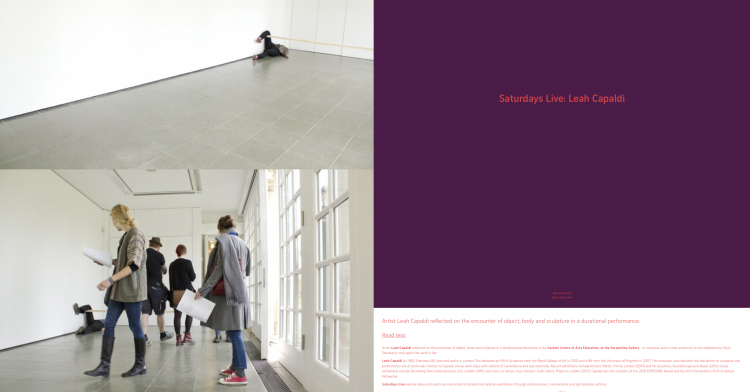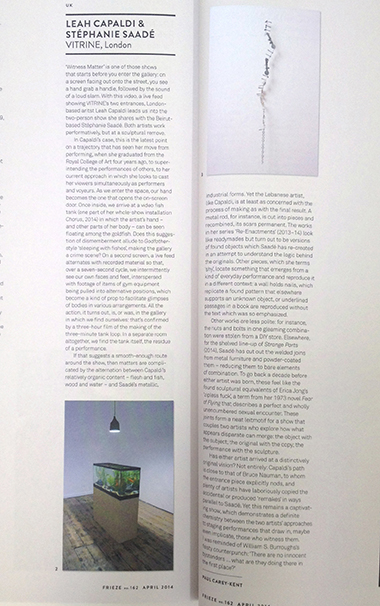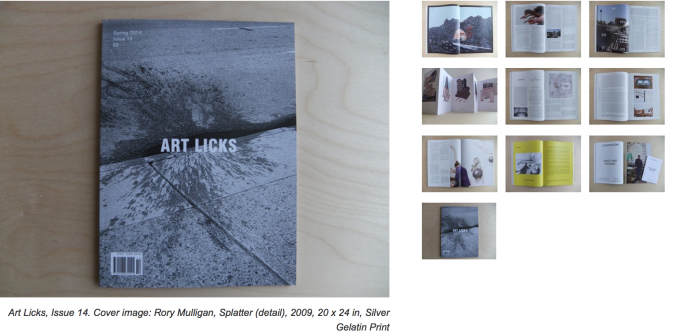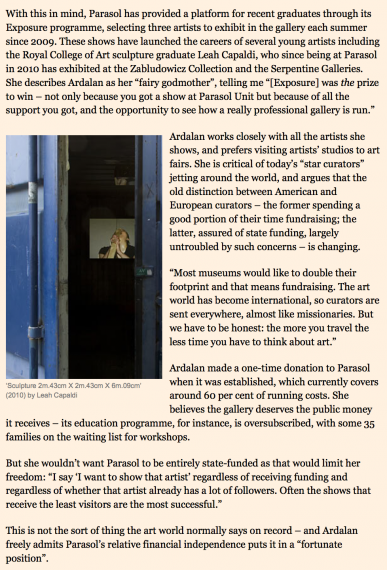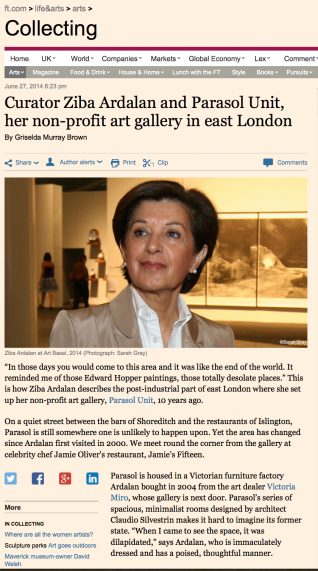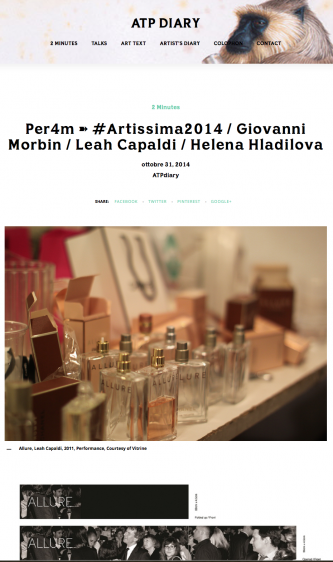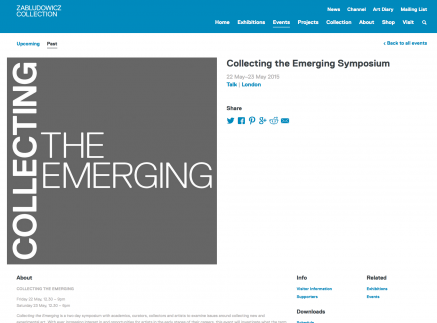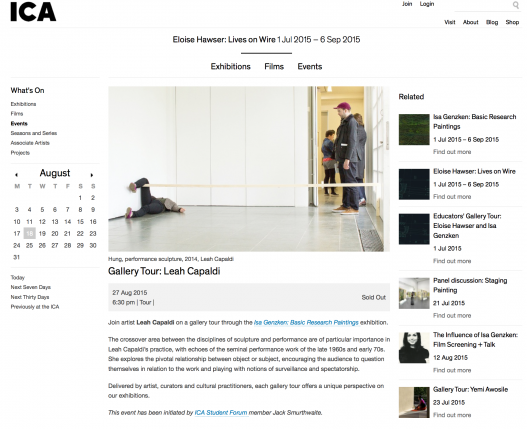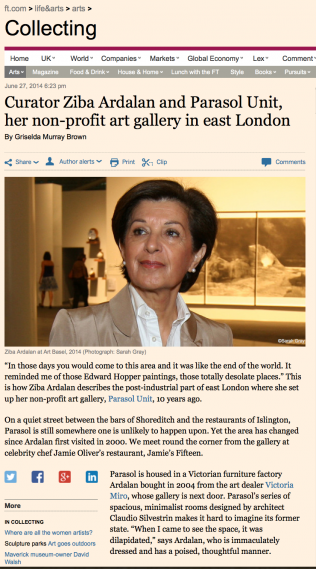 MARCH 2011

New exhibition, Prop, showing at Vitrine London. Review in FAD
New exhibition, The Hole.
I'll be speaking in Collecting the Emerging on SAT 23RD OF MAY at UCL from 2pm...ish, come on down, If you can't make it along you can watch live online on thisistomorrow.com.
I'll be taking part in the Artists Tours series at ICA, Join me on THURS 27/08 from 6.30-8.30pm.
SEPT 2010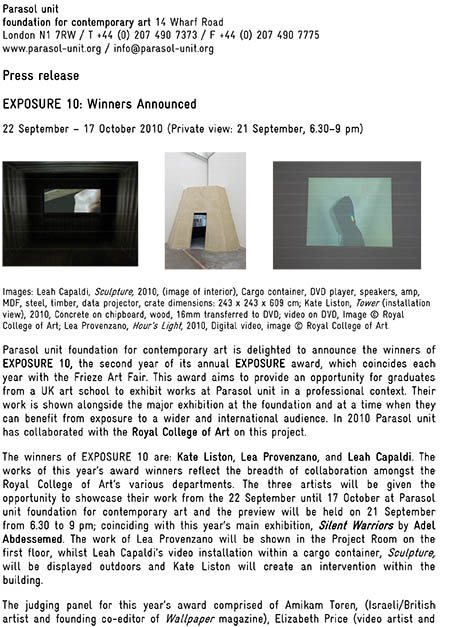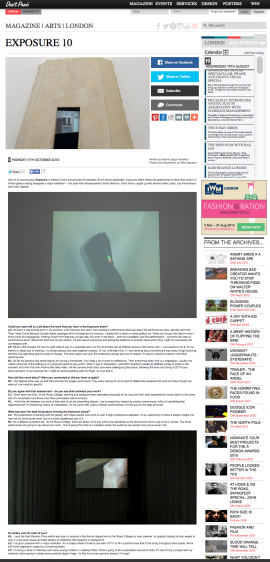 EARLY OCT 2010
I won the EXPOSURE 2010 award from Parasol unit, i'll have a show with them later in the year, amazing news.
A nice interview from the Parasol Unit show with dont panic.
JULY 2015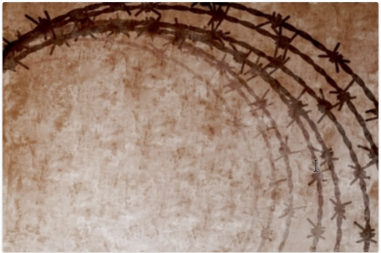 Jack Tan and I present the role of the Screen/Object and question the tension a live Body/Subject can introduce. Using the iconic landscape of the Wild West alongside pre-recorded video, live Skype link ups from Singapore and film commentary we question performance as a problemizer, a space of negotiation between states.

ARE WE BODY? OR ARE WE LANDSCAPE? is a live performance following on from my research last year in the USA into the connections between sculpture and performance. It is part of Pushing Boundaries 2, Brighton University's Annual Research Festival, 13 – 16 July 2015.
NOV 2014
DEC 2013

AUG 2015
JAN 2016
New video commission up on the ACME website, HERE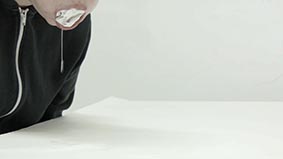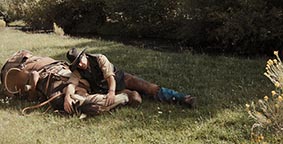 MAY 2015
Join me for my first major solo show, Lay Down, at Matt's Gallery. My entirely new installation brings together sculpture and video with durational performance.

FRI/SAT/SUN only, 11/11/16 -18/12/16
12-6pm

PV 6th Nov, 3-6pm

More info on Matt's Gallery website HERE

See you there!
OCT 2016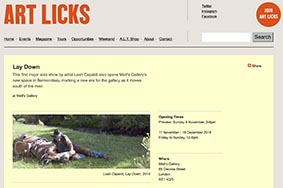 EARLY NOV 2016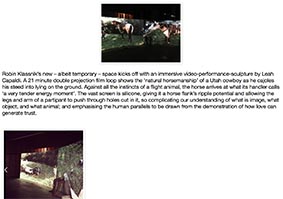 EARLY NOV 2016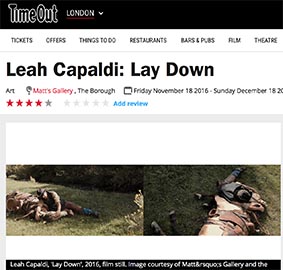 New review up in Time Out, check out HERE
Quick mention on Pauls Art Blog for Lay Down, see it HERE
Lay Down is event of the week on ArtLicks.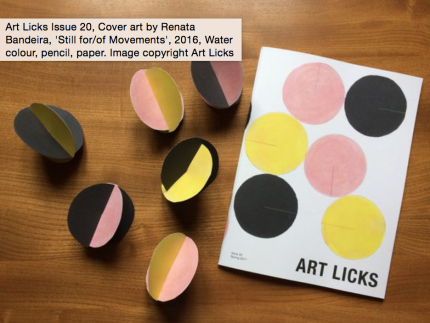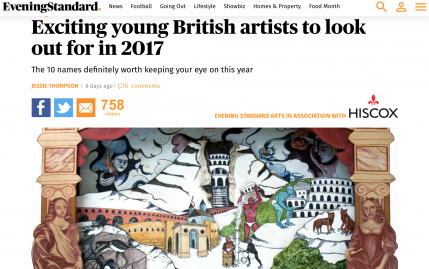 JAN 2017
NOV 2016
I'm very pleased to be in issue 20 of ARTLICKS Magazine,

Order online HERE or pick it up any good art bookshops.
In todays Evening Standard or read online HERE.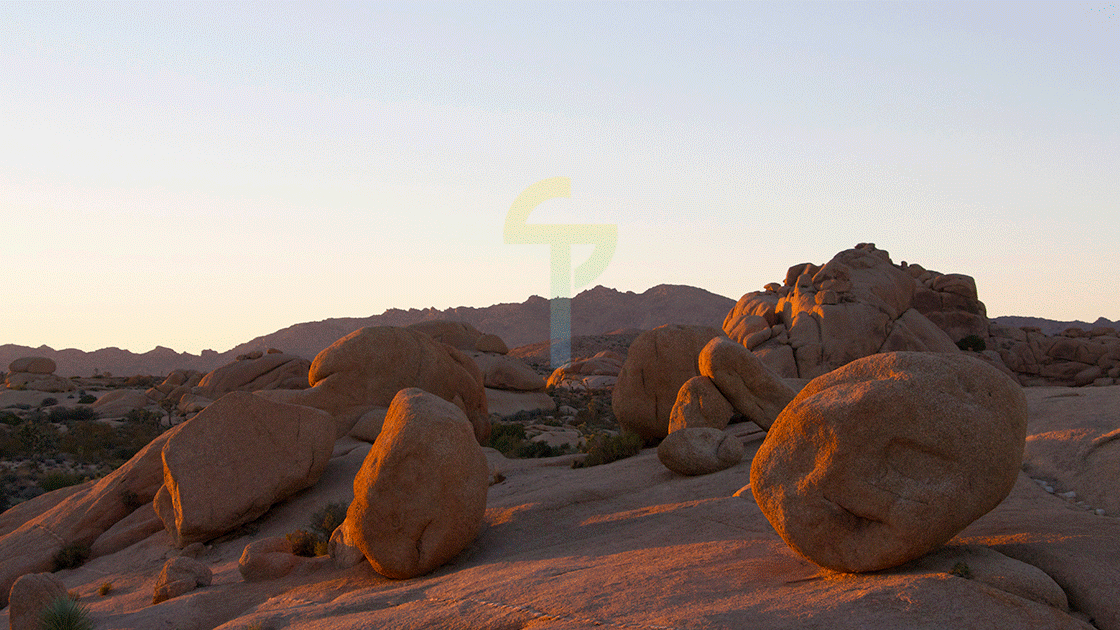 FEB 2017
To receive the broadcasts download the app from our website www.trackingshot.net

TRACKINGSHOT is a site responsive collaborative project exploring frontier spaces. Trackingshot artists are Rebecca Birch, Leah Capaldi, George Charman and Adam Knight.

Associate collaborators Jonathan Griffin, Ellen Mara De Wachter and Chris Fite-Wassilak will contribute texts in response to the broadcasts.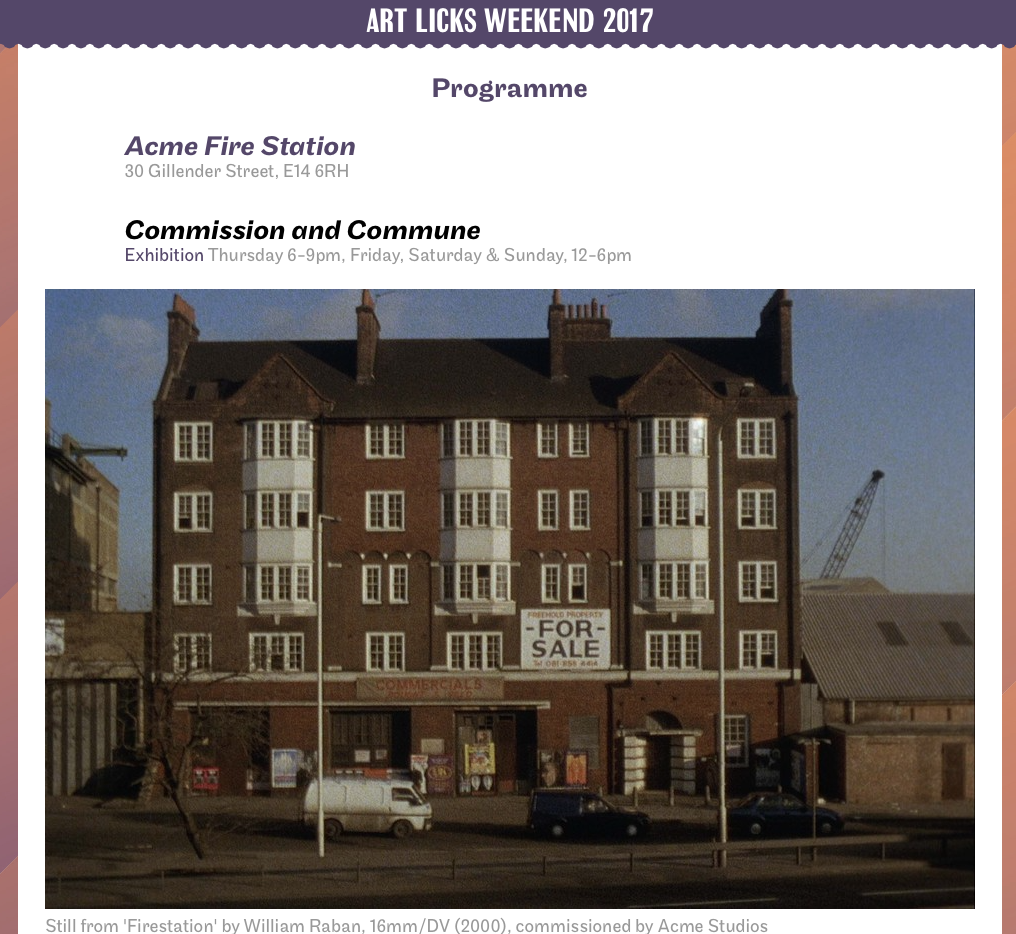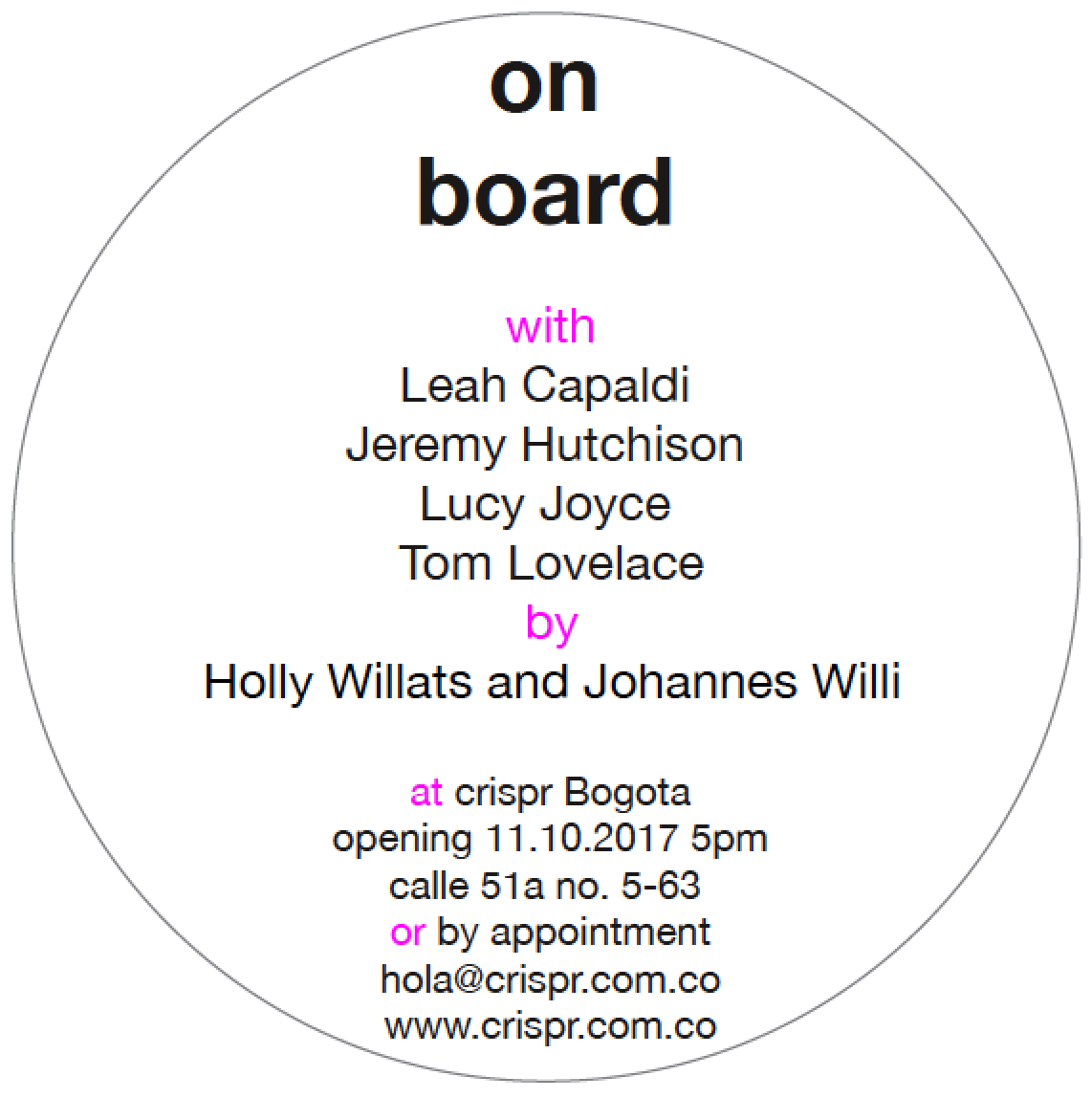 MAR 2017
SEPT 2017
In Bogota, Columbia? Come and see Overlay in On Board at Crispr.
Showing some work in Commission and Commune as part of the ARTLICKS WEEKEND 2017, Join me for some drinks on 28/09/2017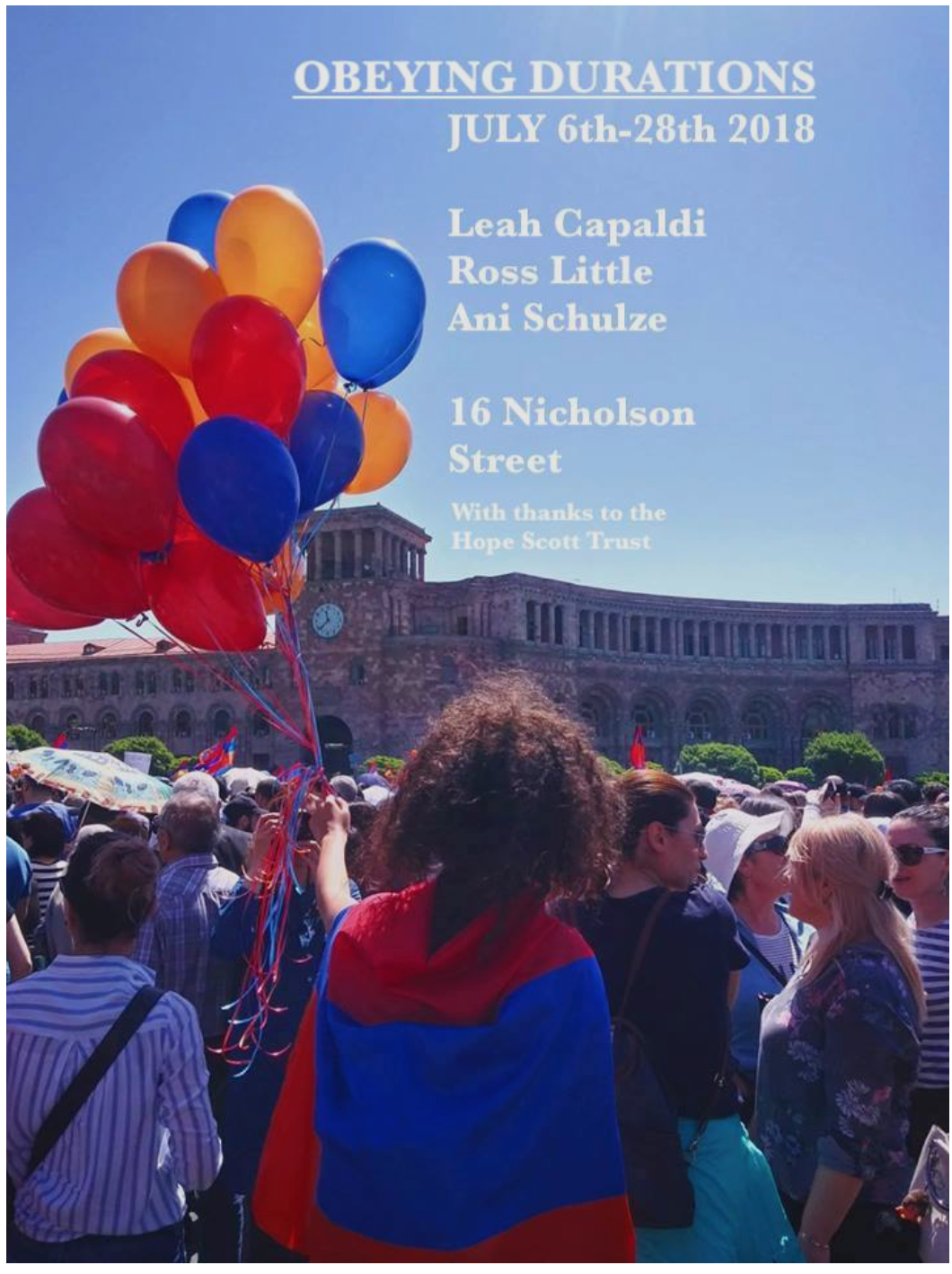 OCT 2017
If you find yourself in Glasgow this Friday join me at the PV for Obeying Durations at 16 Nicolson Street. Overlay is on every Saturday and Sunday for the run of the exhibition.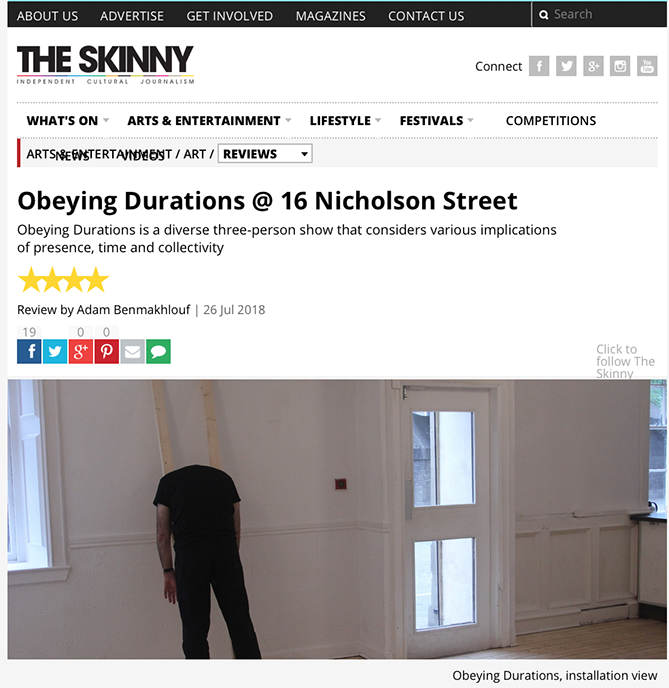 Early July 2018
Nice review of Overlay at 16 Nicholson Street in The Skinny, read HERE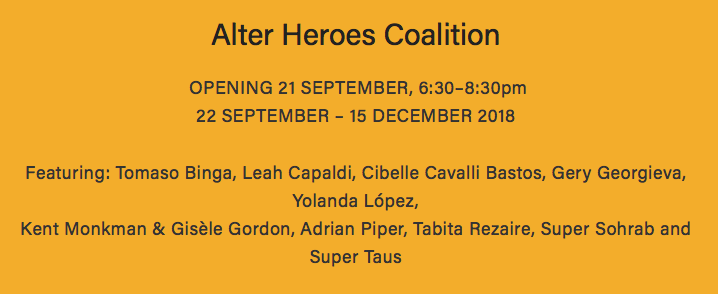 July 2018
New work for Mimosa House, part of a good line up and on until January. Drop by if you are in Oxford Circus. Find out more HERE.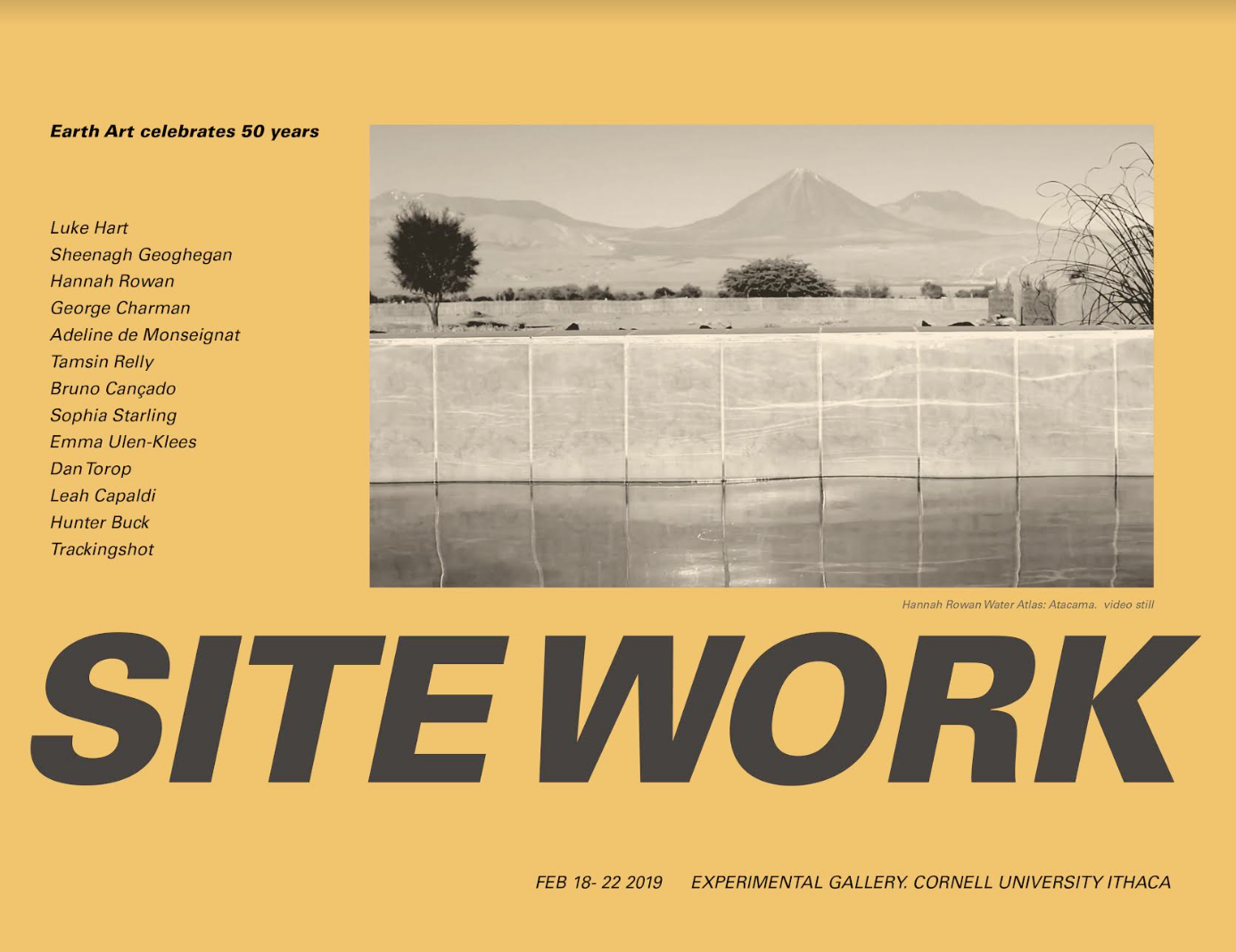 Sept 2018
Very pleased to be part of retrospective exhibition about early Land Art in Experimental Gallery, Cornell University. If you find yourself in New York drop by.
Feb 2019
Very happy to show new work in DOG SHOW

Sunday 14 July 3-6pm
Southwark Park Galleries // Lake Gallery & Dilston Gallery (formerly CGP London)

Featuring:
Heather Phillipson // Martin Creed // Adam Chodzko // Rob Pruitt // Ryan Brown // Babak Ganjei // Joan Jonas // Performances for Pets // Jem Finer // David Shrigley // David Harrison // William Wegman // James Moir AKA Vic Reeves // Oona Grimes // Tom Woolner // Errol // Kathryn & Robin Klassnik // Leah Capaldi // Brian Catling // James Pyman // Abigail Lane // Simon Raven // Fani Parali // Fran Cottell // Tim Spooner // Melanie Jackson // Lucien Freud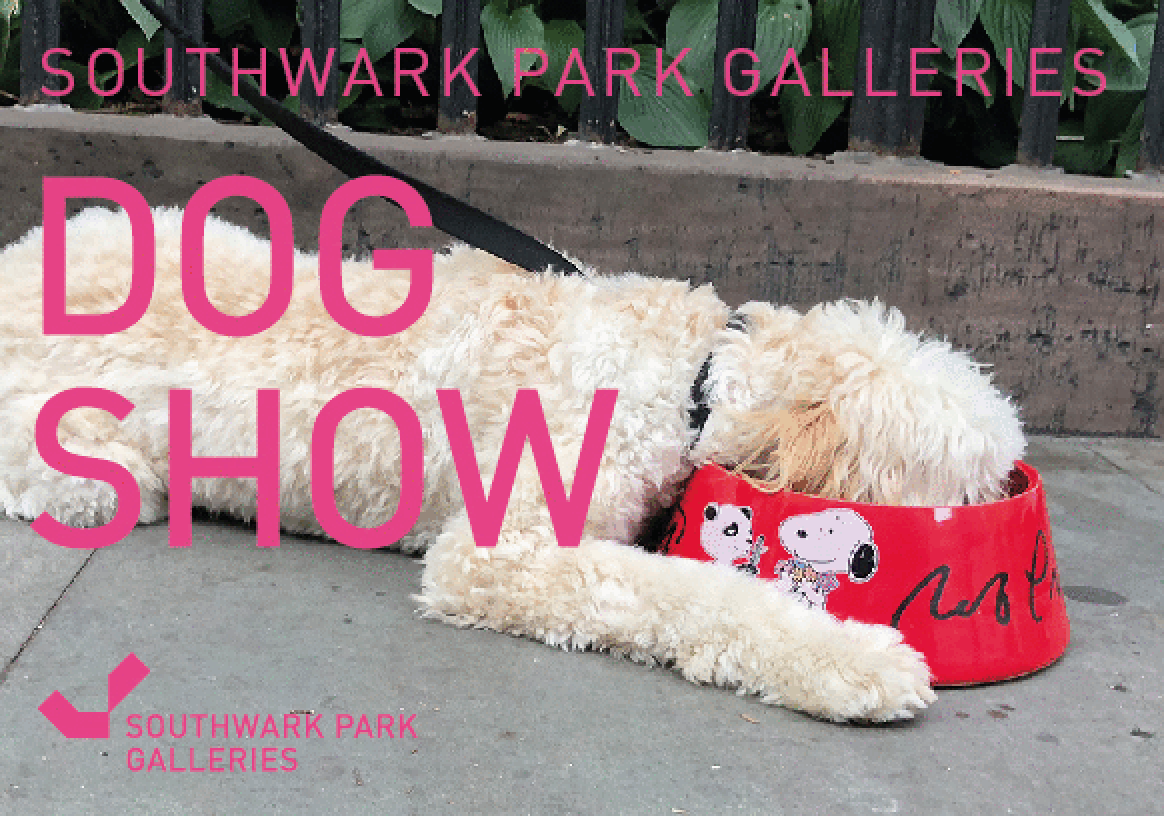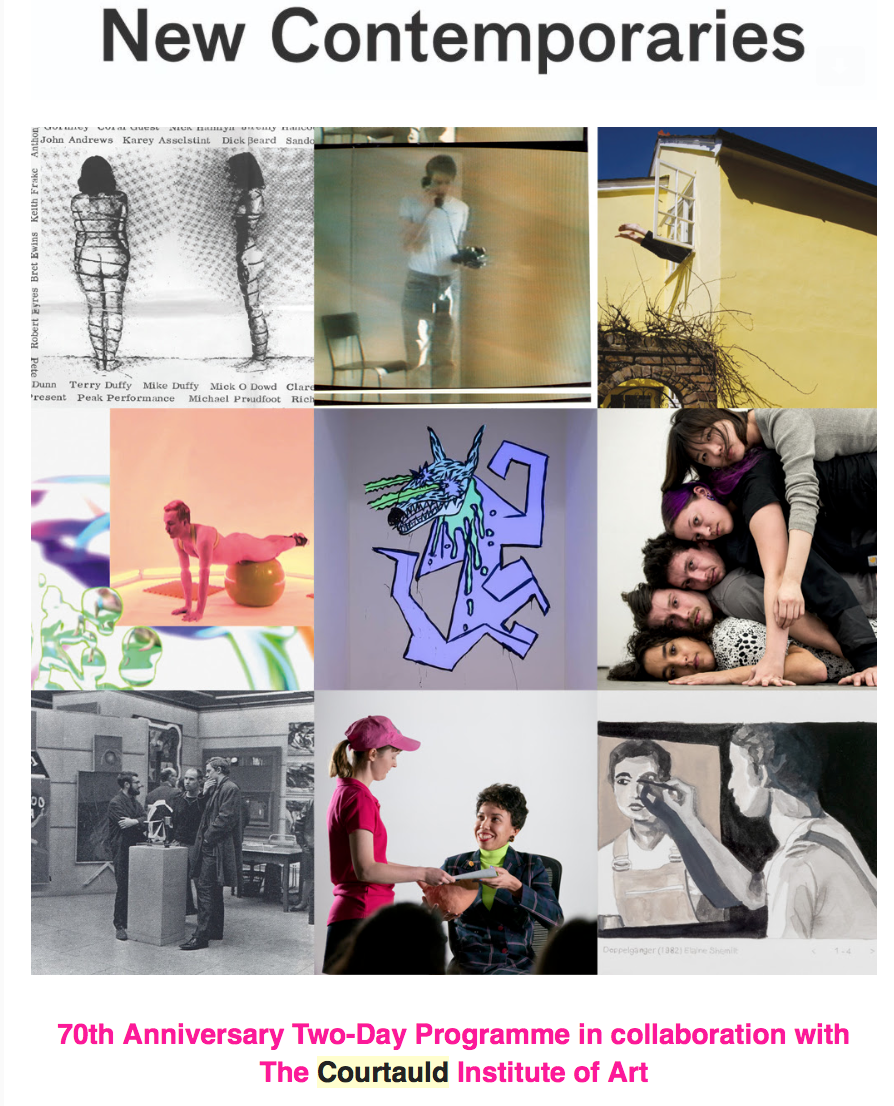 July 2019
Delighted to be taking part in a Panel Discussion on The emergence and evolving agency of performance practice in New Contemporaries with Mike Collier and Alistare MacLennan chaired by Kirsty Ogg.
Friday 25th Oct at part of New Contemporaries 70th birthday at the Courtauld tickets available HERE
Oct 2019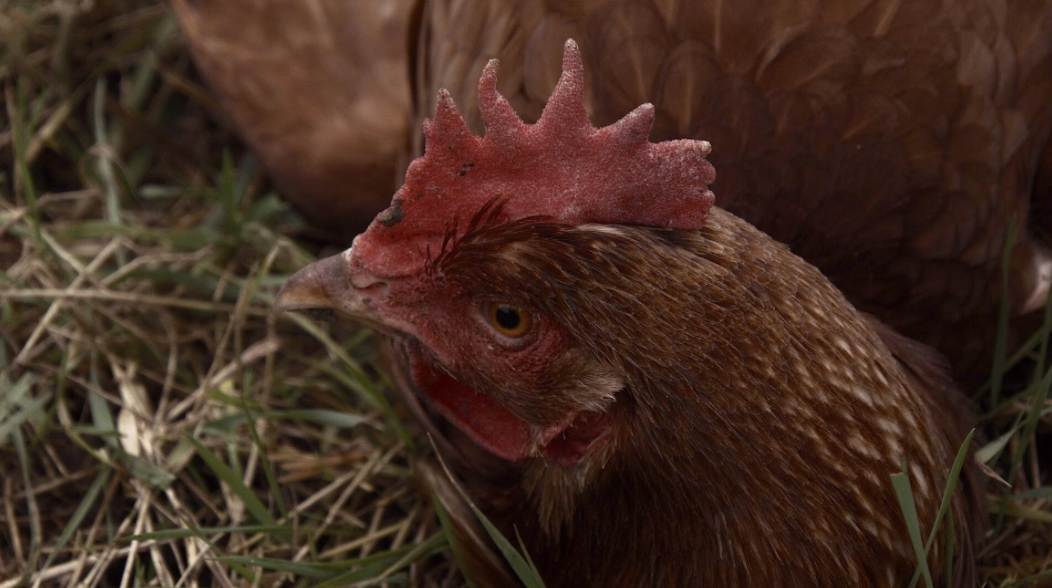 Come along to Ridiculous! at Elephant West on Wednesday 22nd Jan to see a new piece, one night only. HERE for more info.

6:30 - 8:30PM
Elephant West
62 Wood Lane
White City
London
W12 7RH
Jan 2020
'Big Slit' at Matt's Gallery opening on Friday 21st of May.

Click here to book your visit

Big Slit takes place between the exhibition at the gallery and a live feed broadcast online at mattsgallery.org. Both visitors and performer will be recorded by CCTV during opening hours.

It's on at Matt's Gallery 92 Webster Road, London, SE16 4DF

FRI 21st – SUN 23rd
FRI 28th - SUN 30th
May 2021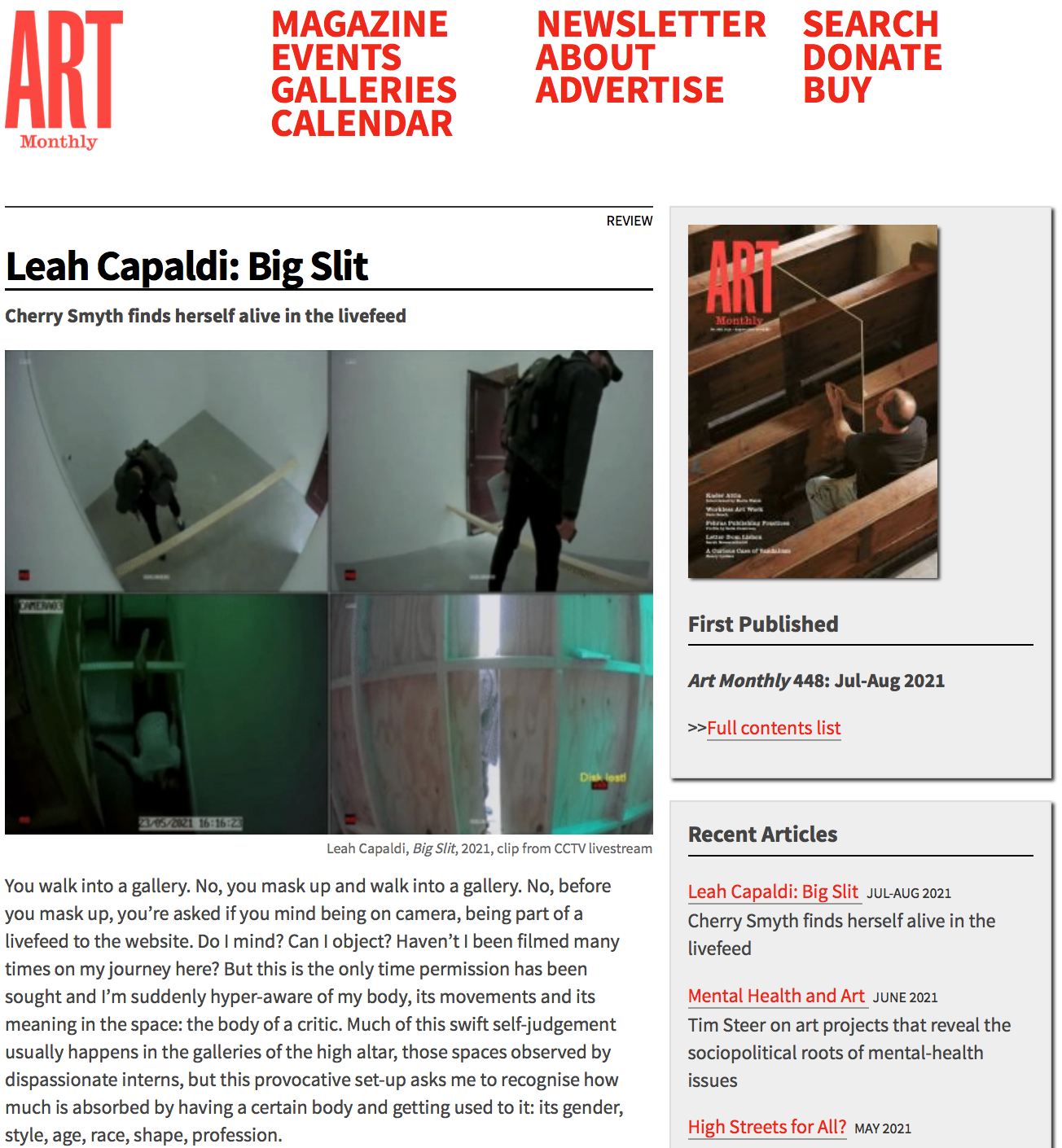 A great review of Big Slit in Julys Art Monthly, printed and online by Cherry Smyth.